24K Gold High Vibe Wellness
In Traditional Chinese Medicine, Energy or QI — pronounced "chee" — is the essential life force that flows through all of nature. This Energy is the vitality that gives life and direction to all matter.  With this principle in mind we at Divine Aqua Vitae expertly select ingredients with the highest energetic vibration to amplify each product, including our signature blend of 24k gold, copper, and silver, which are known to help oxygenate the skin, and produce an uplifted, rejuvenated appearance.  
Working on a cellular and energetic level, Divine Aqua Vitae aims to help visibly transform your skin to appear clearer, smoother, more hydrated, and gorgeously luminous.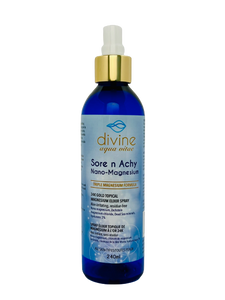 24K Sore n Achy Nano Magnesium
Soothing and moisturizing non-greasy magnesium elixir with Zechstein ancient minerals and 24k nano gold
Buy Now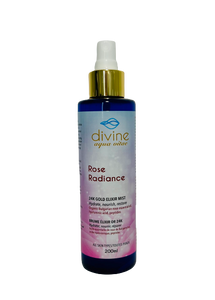 24K Rose Gold Hydrate
24K gold moisturizing facial elixir with organic Bulgarian rose oil, hyaluronic acid, and peptides
Buy Now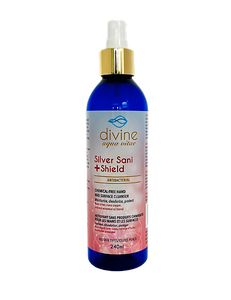 Silver Sani Shield
Clean and deodorize with this chemical-free, moisturizing hand and surface cleanser.
Buy Now